THE RED BULL CAMPUS CLUTCH; VALORANT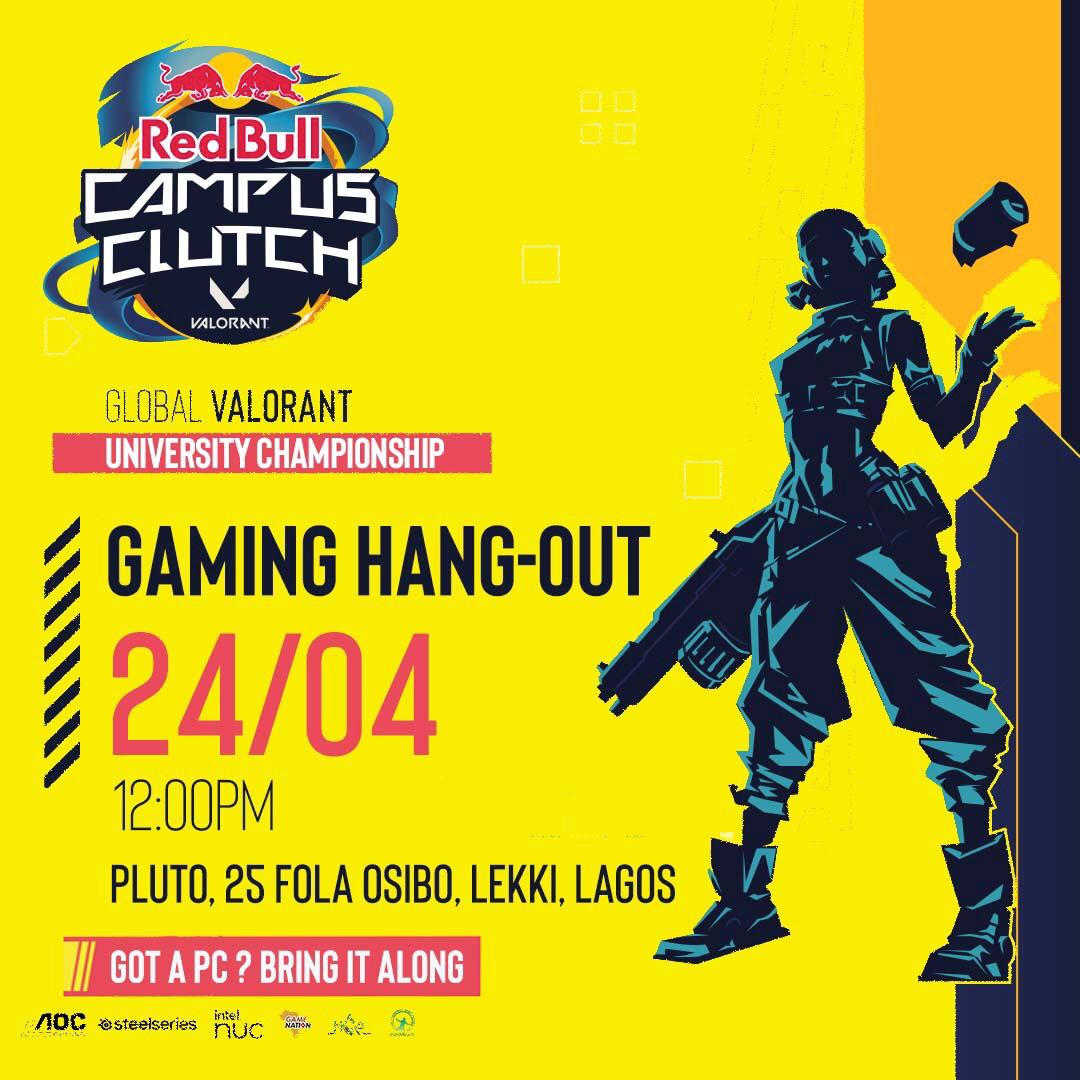 The rise of Esports in Nigeria as been on an upward curve so much so that Esport Players are popping up across the country faster than Esport platforms. In 2020, the emergence of gamers saw a 51% increment from 2017. Nonetheless, Esports organizers like GAME EVOLUTION, GAME NATION, UNITY GAMES etc. have stepped up in the industry.
24th, April 2021 saw Game Nation Host an Event called THE RED BULL CAMPUS CLUTCH at 25, fola Osibo, Lekki Lagos in Pluto Lounge. This event saw a host of players come together after months of being locked at home due to the Covid – 19, for food, drink, interact with themselves and of course play VALORANT.
Valorant is a PC based game that falls under the FPS (First person shooter) and team based tactical shooter. Players play as one of a set of agents, designed based on several countries and culture around the world. The event was targeted at university gamers across Nigeria, which will put them up there with the best across worldwide stage of Gaming (Valorant).
The event saw Game Nation showcase Slime 4KT (House of Anubis) road to being the National Champion (PUBG MOBILE) of Red Bull M.E.O Season 3 and representing Nigeria at world finals of (PUBG MOBILE).
The organizers also reflected on their objectives for the calendar year and ways the Gaming industry can benefit Gamers and Esports in Nigeria. They outlined 3 main events planned out for the year;
THE RED BULL CAMPUS CLUTCH
This particular event is a PC based event designed for university students to engage them in gaming events that would put them on the global scale. The game played in this category is VALORANT. The Red Bull Campus Clutch had their first Qualifiers on the 25th of April 2021 and will be having their second Qualifiers on the 2nd May 2021
This event is a fighting game-based event, designed solely for Console players which will feature strongly competitive players for games like Street fighter, Tekken, Mortal Kombat
Mobile Gaming being the next big thing in the Industry, The Red Bull M.O.E will be Targeting the PUBG and CALL OF DUTY mobile players.
2021 looks more promising for Esports and Gamers in Nigeria with organizers having events and Leagues mapped out for the year.
Written By: Olumide Olajide