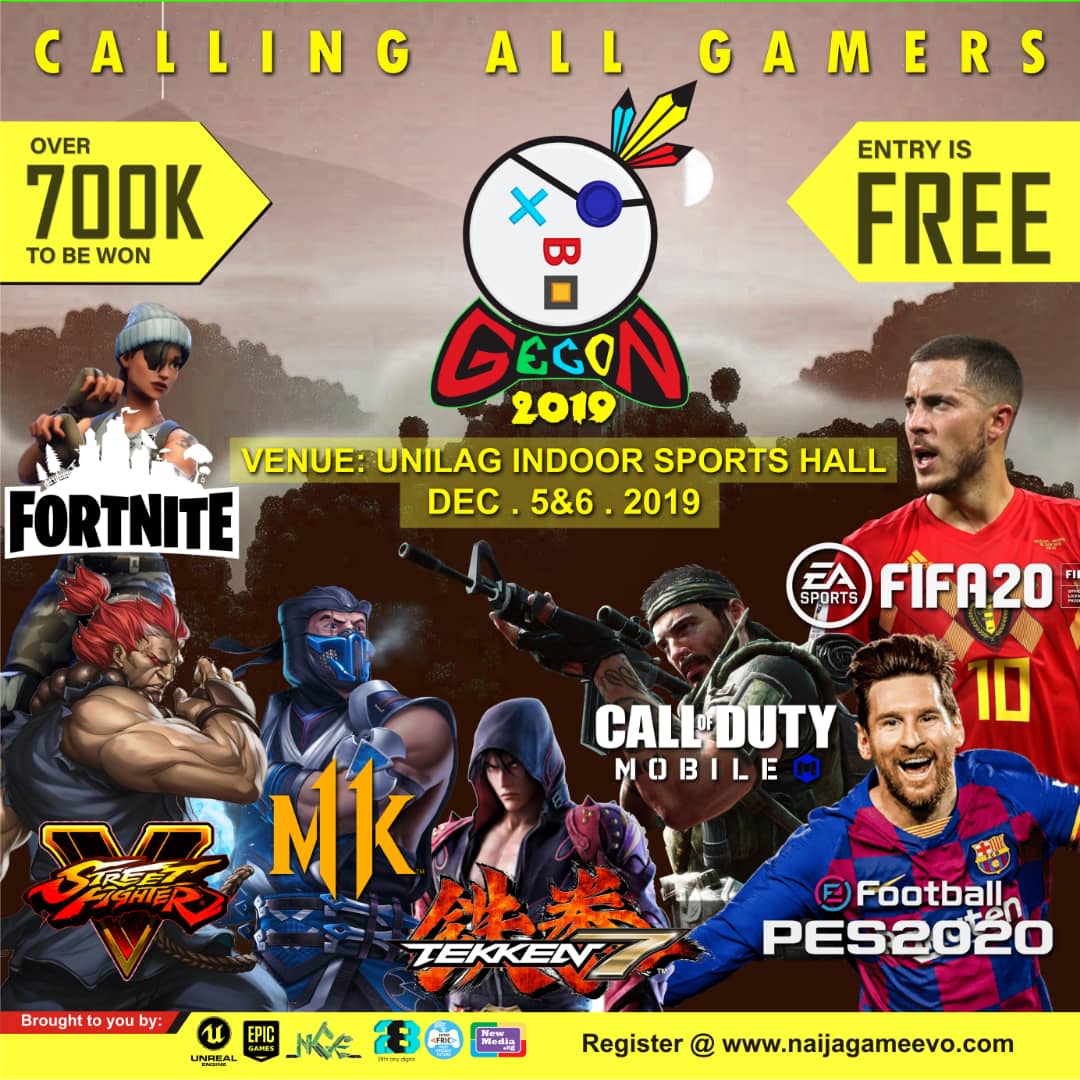 As earlier stated, there are two tournaments holding at the Naija Game Evolution 2019 for the fighting games. The first is a singles tourney featuring Street Fightr V, Tekken 7 and Mortal Kombat 11.
 

The second is a team tournament - Jack Of All Fighters (JOAF) .


General rules
1. Gamers should conduct themselves in an orderly manner. Any defaulter would be thrown out of the venue.

2. Players are advised to come with their own controllers, a Dual Shock 4.  Sticks and Hitboxes are allowed too however rapid fire pads are disallowed. Cronus Max and Titan One converters are not allowed.

3. After playing, please make sure your your pad is de-synced from the game you played on by giving it to the official assigned for that.

4. Accidentally (or intentionally) pausing during matches forces the defaulter to forfeit that round and if it is the last round, he forfeits the game. This rule is however void in cases of inevitable-kill or cinematics.

5. Only the losers of a match can switch characters, the winner keeps using his character.

6. Any player who is not present when they are called for their match without giving the staff a valid reason for being absent has 3 minutes to report otherwise forfeit their match.
7. Registration is not transferable. No one can play for someone else.
8. Equipment sharing would no longer be a reason to delay matches. Please make sure whatever equipment you want to use is ready before you are called or else you forfeit the match after the waiting period of 3mins.
9. Collusion with your competitor is considered cheating and any player found doing this would be disqualified.
10. Violence of any kind or threat of violence is NOT TOLERATED and defaulter would be kicked out of the venue.
STREET FIGHTER V settings
99secs, 2/3 rounds, 2/3 matches, No handicap, Top 8 play 3/5 matches
Stages - Tamenco Flaven, Kanzuki Beach and Skies of Honor are not allowed.

TEKKEN 7
60secs, 3/5 rounds, 2/3 matches. Top 8 play 3/5 matches
MORTAL KOMBAT 11
99secs, 2/3 rounds, 2/3 matches, Top 8 play 3/5 matches  
The Jack Of All Fighters
This aspect has been updated. Pay attention to 1b
 and 5
This is a team tournament featuring Street Fighter V, Tekken 7, Mortal Kombat 11, Naruto Ultimate Ninja Storm 4 and Super Smash Bros Ultimate.

1.       Each team should have a minimum of 4 players and a maximum of 10. This implies that every team has a minimum of one person representing them in a particular game and a maximum of two.

1b.       There are five featured games and teams are required to register for at least 4 games.     However it doesn't mean they are limited to just 4 games i.e they can register for ALL FIVE if they have representatives for them. Simply put, if you register for 5 games, you increase your points chances.

2.       In cases where a team has two people representing them in a game, there should be a point man, known as THE MAIN while the other representative is a back-up also known as THE ASSIST.

3.       A player can only serve as a MAIN for a team in ONLY ONE game.


4.       The MAIN for a team in any game starts that game for them ie plays the first match. Only the team who loses can substitute the MAIN for their ASSIST. Eg, team A vs team B in SFV. Team A's SFV MAIN beats team B SFV MAIN, team B can choose to substitute their main for their ASSIST to come in and play. However the Team A's MAIN can switch characters to fight team B's ASSIST.

5.        A player who is a MAIN for his team in one game, can also be an ASSIST for another game. This is known as FAUX ASSIST. A FAUX ASSIST serves strictly as a lifeline or a momentum changer. He cannot play decider games. Eg team A vs team B in SFV for a first to 3 . Team A's MAIN wins the first match and team B switches to their ASSIST who is a FAUX ASSIST (ie he is a MAIN in another game). If team B's ASSIST goes on to win the next two games, he has to mandatorily switch back to the MAIN so that the MAIN plays the "last set of games.
This rule is exempted from the last two games without a leaderboad - Naruto and Smash Bros - meaning a "FAUX ASSIST" in those games can act as a real ASSIS
T. 

6.       These combinations of players is not acceptable -  No 1 from two different games, No 2 from two different games, No 1 and no 2 from two different games. For the purpose of this formation, please make use of the current rankings on the leaderboards.

7.       Each team should have a captain (the highest ranked player of  any game in that team is recommended). Only the captain should register for the event and then send the team name and list of members to the T.O within 24hrs of registration via email: shaolingaming

[email protected]

. This means that teams should already have been formed before the captain registers them.

8.       Info would be communicated to the captain who are expected to pass it to their members.

9.       Points would be awarded to the top 4 teams in all the games. The teams with the cumulative highest number of points win. Points distribution for the top 4 is as follows
1st – 800
2nd – 400
3rd – 200
4th – 100  

THE SINGLES EVENT
The singles tournament features 3 games: SFV: AE, Mortal Kombat 11 and Tekken 7. It would have two phases – The Open Phase and the seeded phase.

Open Phase
This is open to everyone except the top ranking members of the games listed. This is to give chance to other gamers to be able to exhibit their strength on a level playing ground. The format used here is round robin. Two people would advance from each group to join and complete the seeded phase. REGARDLESS OF WHETHER YOU ARE SEEDED OR ARE ELIGIBLE FOR THE OPEN PHASE, YOU STILL HAVE TO REGISTER ONLINE.

REGISTER HERE
The list below are the players that been exempted from the open phase. Please note that this list is based on the T.O's entire discretion based on records and is not wholly based on the current rankings.
SFV:
ChuX, KID, Sphinx, Aensland, Rexpet

Tekken 7
:
 ES_Combo, Mishima, Icefox, Ghenesis
MK 11:
General Zod, Shinigami, BONTUS, ChuX, Yung La Flame,Isimiyagi, Imajiboy, Shazam 
 (these are still subject to change from the T.O)
Seeded phase
The top ranked players from each game are going to be seeded into a bracket of 16 to be completed by the advancing players from the open phase.  SEEDED PLAYERS SHOULD REGISTER ONLINE REGARDLESS AS FAILURE TO REGISTER WOULD MEAN THAT THEY ARE NOT ATTENDING AND THEIR SPOT WOULD BE GIVEN TO ANOTHER.